Summer Activities in Grand Beach
Watching, hiking, water skiing or sunning on the Lake, at Grand Beach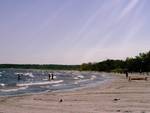 If your preference is bird-watching or people-watching? At Grand Beach, Manitoba's most famous strip of sand, you can take your pick.
Or just take a hike along the Wild Wings Trail of this Provincial Park's Grand Beach Marsh, or stroll the bustling Boardwalk of the beach itself.
In addition to offering lots of scope for swimming, sunbathing, windsurfing, sailing and socializing, visitors to Grand Beach Provincial Park can also:
Spread your beach blanket on the 3 kilometre stretch of clean, white silica sand, backed by stunning 8 metre-tall dunes.
Hike 30 kilometres of back country trails, including the Ancient Beach Trail, a vestige of the beach line of glacial Lake Aggasiz (now covered by a mixture of deciduous and coniferous forests), and the Spirit Walk Trail, with views of Lake Winnipeg, and immense glacial boulders.
Boat, water ski and board sail in the sheltered lagoon area.
Fish for perch, walleye, northern pike, silver bass, carp and catfish near the Park's causeway bridge.
Camp in the well-equipped campground, featuring easy access to the beach.
Berry-pick in the mixed forest of the parkland. Look for Saskatoon berries in June, chokecherries and blueberries in August.
View (carefully) the Park's endangered bird species, the Piping Plover.
Bring the family together and come see what's happening at the lake Area. The area has a wide variety of activities and entertainment for people of all ages. The area also has shopping, nightlife, cultural events, and sporting activities, making it the perfect family vacation spot.
Grand Beach Area
Beaches are Great
Author: Fredrick Buetefuer