The City of Selkirk, Manitoba Canada
Geography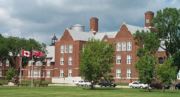 As a dominant feature of the local landscape, The Red River divides the City of Selkirk into east and west. The Red River provides a multiplicity of recreation and sporting activities. Fertile fields of grain and oilseeds surround the city on all sides. Only a few kilometers to the north lies Lake Winnipeg, one of the largest fresh water bodies in North America and the world. The cottage communities that line the southern shores of the lake provide a summer get away to thousands of Manitobans.
Location
Selkirk is located about 22 km northeast of Winnipeg on the Red River. As of the 2001 census, Selkirk had a population of 9,752. Tourism, the Gerdau AmeriSteel Steel Mill (MRM or "The Manitoba Rolling Mills"), and the Selkirk Mental Health Centre (SMHC) are the mainstays of the local economy. A bridge over the Red River connects Selkirk with the smaller town of East Selkirk. The city is connected to Winnipeg via Highway 9 and is served by the Canadian Pacific Railway.
History
Selkirk is known locally as the "catfish capital of North America". Settled on the banks of the Red River, Selkirk served for many years as the last harbor on the Red River system before Lake Winnipeg. Early settlers arrived by York boat in the late 1800's from Eastern Canada and from far off Europe. They brought with them a rich cultural heritage that can be seen today in local festivals like the Manitoba Highland Gathering and Games.
Author: Fredrick Buetefuer