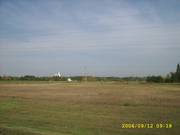 Libau, now only known to most cottagers as a road sign along Hwy 59 - halfway to the beaches, is situated on the eastern edge of the Red River Estuary, just north of Selkirk. It used to be a well known way-stop when travelling between the Lake Communities and Winnipeg. The once popular gas station and restaurant next to the highway is now nothing but a steadily deteriorating ruin After a change of ownership in the 90s and a renovation it just kept going downhill untill they closed down completely. Too bad, as the first gas stop after Bird's Hill is Scanterbury. Sometimes difficult to reach on an old fuel guzzling motorcycle. If you see me walking along hwy 59 with a fuel canister in my hand, you'll know why. :-)
The marshes between Breezy Point and Libau are known as the Netley-Libau Marsh and are famous for their tremendous concentrations of southward migrating birds, with numbers of geese and ducks exceeding 100,000 during fall migration.
The Netley-Libau Marsh is very popular with bird watchers and is under consideration as a candidate Heritage Marsh under the Manitoba Heritage Marsh Program.
History of Libau Manitoba
Settled by Latvian and German settlers in the late 1800s who immigrated to Manitoba from various parts of Russia. They named the town after their port of departure, the ice-free harbour of Liepāja (Libau), on the Baltic Sea in West Latvia.
Author: Fredrick Buetefuer