Grand Beach Manitoba, Canada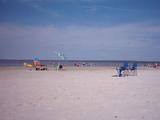 Grand Beach, 80 kilometres (50 min.) north of Winnipeg, has been a favourite Manitoba holiday destination ever since 1916.
Manitoba's little piece of paradise on the prairies.
Take a hike along the Wild Wings Trail of this Provincial Park's Grand Beach Marsh, or stroll the bustling Boardwalk of the beach itself.
White silica sand, backed by stunning 8 metre-tall dune
Originally founded by homesteaders a substantial Metis community were the only settlers until the Canadian Northern Railway built its line and set up the resort along the 'Grand' beach. It now ranks as number three among the top North American beaches.
The board walk that extends along the beach was built in the early 1930s - great for an afternoon walk along the beach. Check out the signs depicting the past glory of one of Manitoba's oldes resorts.
It is just 80 kilometres north of Winnipeg along Highway 59.
Some Stats - Grand Beach
The main beach of Grand Beach Provincial Park is 3 km long and some of the dunes are up to 12 metres high.
The beach is wheelchair-accessible. Grand Beach: A nice place to stay.
Author: Fredrick Buetefuer