Elk - Island on Lake Winnipeg Manitoba
Elk Island is an island in the estuary of the Winnipeg River. It can be reached on foot in most years by crossing from the northern tip of Victoria Beach. In some years the water may be to high to get across without wet clothes and you should be prepared to swim.
Elk Island in Lake Winnipeg Manitoba is not a resort, but a Provincial Park. There are no facilities or other amenities there.
Elk - Island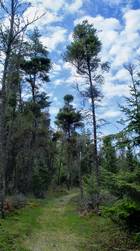 It is a favourite destination for day trips by motor boat or by sailing boat. In late July and August it is a good place to go berry picking for Blueberries and Huckleberries. If you know what you're doing it is also great for mushroom picking.

During the early part of the 20th century there was a logging camp on the east shore. Now you can just barely make out the foundations. There is a path that connects the south shore with the north, which meets the path to the east shore and the old camp about half way through the island.
Author: Fredrick Buetefuer