The Village of Powerview, Manitoba
Powerview
The Village of Powerview, named after the big powerdam in Manitoba Canada, it borders the Rural Municipality of Alexander and the Sagkeeng First Nation Indian reserve.
The Village of Powerview is situated in eastern Manitoba on the banks of the Winnipeg River, right next to the town of Pine Falls (The two towns are practically merged, separated only by a thin green strip and the Midway Grocery store). The village is located on Provincial Trunk Highway 11 and is approximately 132 kilometres northeast of Manitoba's capital city of Winnipeg. The village has a population of approximately 755 residents and is growing in size. Geographically, Powerview is situated in rugged wilderness. The Boreal Forest surrounding the Winnipeg River form a strong background to the village.
The dam can be seen from far away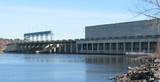 Named after the big Powerdam that dominates the view of the Winnipeg River.
The most prominent feature of the village is the big hydro power dam which creates a big storage lake toward the town of St. George. The dam can be seen from far away and is used to house a wireless Internet tower, giving wireless Internet access all the way to Traverse Bay.
Powerview is popular in the Eastern Beaches area as it provides a large lumber yard, insurance agency and automotive repair. The RCMP office for the RM of Alexander is also located here.
Current development
The community has been struggling since Tembec shuttered its paper mill, throwing some 250 people out of work.
Town council voted during a special meeting to make an application for a provincial administrator to govern the community's affairs.
Author: Fredrick Buetefuer