Gimli an Icelandic Settlement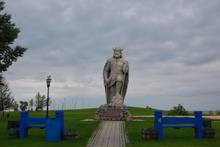 The first Icelandic settlers arrived in Manitoba in the late 1800's where they founded "Vatnsthing" (Lake Parliament) or 'New Iceland' on the western shore of Lake Winnipeg. They had fled their home on the island of Iceland to escape Danish trade restrictions and a harsh winter. This settlement of 'New Iceland' stretched from just north of present day Winnipeg Beach to include Hekla Island (then called Big Island).

More detailed history can be found on the Gimli Community Web.
Gimli, on the western shore of Lake Winnipeg
Today Gimli is a thriving community on the western shore of Lake Winnipeg, known for its good restaurants, historic sites and tourism. Gimli has been host to several national and international sports events. Hosting the Manitoba Ladies Curling and World Boardsailing Championships in 1994, the 1997 Manitoba Seniors' Games, the 1998 Manitoba Winter Games, and in 1999 the Pan Am Games Sailing Races, amoung others. Gimli is also the host for the Icelandic Festival of Manitoba or Islendingadagurinn and is know for its New Icelandic Heritage Museum.
<h2> And the Canadian Crown Royal Whisky Distillery (a good Whiskey, people around the world like them). </h2>
Author: Fredrick Buetefuer