Jet Skiing, Jet-Ski, Wave Runner, Waverunner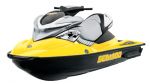 Jet Skiing, Jet Ski, Wave Runner, Waverunner
Jet skiing along the beaches of Lake Winnipeg is a very popular past time between Patricia Beach an Elk Island. Jet skis are fast mobile and easily transported water vehicles. The so called personal water craft (PWC) can be launched from any of the numerous boat launches along the south-eastern shore of Lake Winnipeg and then take one or two riders to meet up with friends at Grand Beach or Hillside Beach. It can also be used to get to remote areas such as Elk Island or the Dunes of Beaconia quickly, whithout have to go on long hikes.
Jet Ski, Jetskiing, Wave Running, Wave Runners
You don't have to go to the Carribean to enjoy the fun of racing your jetski through warm waters in the sun. With summer temperatures around and above 30° Celsius and water temperatures just below that the Eastern Beaches with its long white sandy beaches and dunes can compete very well.

Take along your jetski (jet ski) or wave runner and enjoy the lake.
Author: Fredrick Buetefuer